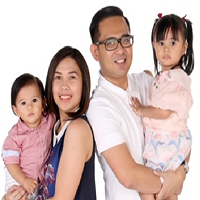 It takes a big heart to help shape little minds
By: Fe Esguerra-Galindo
We learned about APDM through recommendations of our mommy friends as they told us about their positive experience during the admission assessment with Teacher Archie. When we set our preschool assessment for Frankie, her social skills were still developing. Yet during that one-hour interview, we were impressed by how he was able to quickly build rapport with our daughter by creating a warm and comfortable environment. This, for us, was a good indication of how the school's tone is set. Before the school year started, we enrolled her to the School Readiness program and the progress report at the end of the Summer Workshops showed how they took the time in getting to know our daughter and identified her strengths, potentials and areas for development. Within months into the school year, we've already seen a lot of improvement in terms of our daughter's social skills, confidence, ability to focus, vocabulary and communication. Aside from academic growth, it is equally important for us that Frankie develops life skills, listens and follows instructions, builds friendships, shows empathy and demonstrates good values. She was able to show improvements on these aspects during the past three quarters. One of the biggest milestones she achieved this school year was overcoming her stage fright through the help of the school's regular programs. The pride in seeing your child perform on stage even for just a few minutes is priceless. The QCIF is also something we appreciate about the school since it serves as a reminder on how critical the parents' involvement is on the development of their child. They say "It takes a big heart to help shape little minds." We are grateful that APDM has some of the biggest hearts who passionately brings the best out of each and every child.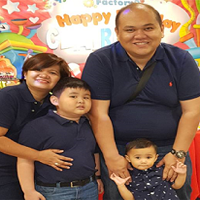 We are so thankful that we have found a school that uses an unconventional approach in dealing with the needs of the young minds of today
By: Daisy De La Paz
Being a first time parent is never easy. We want to give our children proper care, we want to raise them the best we can, give them good education and a comfortable life. And along the way, we have to teach them how to live and to work by themselves. There is no school or YouTube video for proper parenting. It is all based on experience while enjoying the joys and pains of being a parent. Since we transferred to APDM, we noticed that JD has improved and matured a lot. He has achieved to be an outstanding student when he graduated in kinder. Now that he is already in Grade 2, with the help and guidance and tons of patience of his wonderful teachers, he is able to cope with the changes in school. APDM is a big help to JD and to us, parents. The teachers are very accommodating, especially JD's adviser Ms. Santos whom we can message or call anytime we need to clarify anything about JD's school works. They keep us updated if there are issues that need to be addressed immediately and it is also properly coordinated with JD's Occupational Therapist. We also appreciate the ates and kuyas taking care of the students' needs. We feel that JD is well taken cared of in APDM. We also appreciate Ms. Almeda and T. Archie for being hands on in school as well as to the students. We appreciate every time they tell us how good JD is doing in school. The personal touch they are giving to their students makes us feel special. To APDM, we are very happy that we enrolled JD in your school. Thank you for providing your students life-forming education. You teach them not just academics but life skills as well, and we appreciate it a lot. We hope that as APDM gets bigger, you will not lose the personal touch you are giving to your students and their families as well. You treat us as your family. I can truly say in APDM, family is love.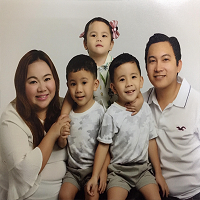 We will continue our partnership with APDM in rearing and in nourishing his young mind
By: Michelle Acuña
One of the situations all parents must go through is to search a school for their child/children. This includes reading reviews, asking for recommendations, and enrolling in trial classes offered by different schools of different types and styles of teaching approaches. Choosing the right one is a tough decision, as we entrust our children's pedagogical needs to the school, which would also serve as an extension of home in molding their characters. We also consider it as an investment for their future endeavors and for preparing them in this ever-changing world. After a lot of considerations, we have chosen Academia Progresiva de Manila to enroll one of our twin children. Along the way, we've seen considerable progress in our child, both in academics and in his behavior. He also enjoys the activities that the school engages them to. He particularly enjoyed the dance he had during the Foundation Day and the Friendship Cup. He still clearly remembers the chant of the Blue Team and the steps of the cheer dance. With the positive results we've seen so far in our child's first school year, we will continue our partnership with APDM in rearing and in nourishing his young mind. Moreover, we are planning to enroll our other children this upcoming summer class and eventually into the regular class for School Year 2019-2020. We are so thankful that we have found a school that uses an unconventional approach in dealing with the needs of the young minds of today, it is no wonder that it's called progressive.

Academia Progresiva De Manila
---
Established in July of 2013, APDM caters to the needs of pre school and elementary students. We are a vibrant and progressive learning community that helps enable students to become analytical, goal-driven, values-oriented, socially responsible, compassionate and fulfilled lifelong learners fully prepared for life.
Copyright © 2021 www.http://apdmphilippines.com/. All Rights Reserved | Designed by resonateasia.com